Tulsi Krishna Yoga
Jaya Radhe, Radhe Shyam....
Experience a Traditional Ayurvedic Yoga practice to relieve body pains, increase range of movements and attain deep ralaxation...
Classes: Fridays @ 6:30 pm & Sundays @ 7:30 am, Ayala City Sports Center
For private classes please call +639273573989, +639199889777 & +639228005157
Yoga makes the body hum with good health...
Tulsi with Serene Vastolo & Joanna Lhuillier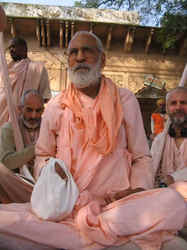 Srila Narayan Maharaj, my Guru
MaryAnn Aboitiz and the twins
Carla Allegrado and sister Maris Uy
Yoga with Escande Family
Bow Pose for youthful energy by Jojie Garcia
My preggy yogis, Aimil Sarmiento, Karina Go and Jojie Garcia
Nataraj Pose for balance & strength By Serene Vastolo
May Te and Milo Osmena
Sandra Pesch and Suzy Oliver
Jone Aboitiz with cousins